Top: Flamed Maple, 20 mm
Body: 2 pieces of Mahogany
Neck: 5 pieces of Wengé/Maple
Headstock: Flamed Maple
Binding: Black
Neck joint: Set-neck
Neck shape: C thin
Neck thickness at 1st fret: 19 mm
Neck thickness at 12th fret: 21 mm
Fretboard: African Ebony
Scale: 25,5 Inch
Radius: 17 Inch
Nut: African Ebony
Truss rod: Double Action
Side dots: White, 2 mm
Frets: 24 medium/highest stainless steel frets
Neck Humbucker: Bare Knuckle
Bridge Humbucker: Bare Knuckle
Bridge: Hipshot Hardtail, black
Tuners: Hipshot Grip-Lock, black
Pots: 500K
Switch pickup: 3 way, Black
Knobs: Made of metal, black
Jack sacket: Stereo, black
Strings: .010 Ernie Ball
Guitars varnish: Polyurethane high-gloss
Plates varnish: Acrylic matt
Hand-carved top
The top of every single instrument is strictly hand-carved to enhance its characteristics.
Stainless steel frets
The wear proof stainless steel makes the frets shiny and provides and excellent suonability.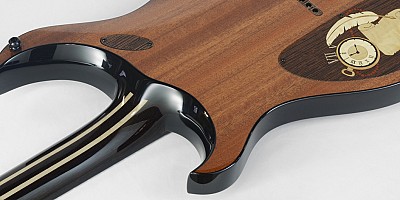 Easy Access
The neck-body junction is harmoniously shaped in order to enhance its aesthetic beauty and to provide a perfect playability even at the highest frets.
Wengé cover plate with inlay made of flamed Maple, Poplar, Padouk and Ebony.
The cover plate of the compartment for the electronic components is made of high quality wood types.